Made in Britain - we work with the Best of British.
ClearWater Hygiene was setup in the very early days of the Covid-19 crises. We had been listening to the news and trying to take in the problems the UK was facing to source enough PPE for front-line workers.
We couldn't quite believe that the UK did not have adequate supplies or manufacturing capability to meet the urgent demand.
When we found out that a family member had turned over their Scottish based gin distillery to sanitiser production, to help answer the call from the UK and Scottish governments for more supplies, we felt it was our duty to try and help.
From the start, our mission was to source as much as possible from UK suppliers. This wasn't to make a stand against global trade but it was to make a stand for British manufacturing and self-sufficiency. Surely, we thought, the components and products needed to provide hand sanitiser would be easy to purchase in Britain.
We quickly found out that this was not the case. It took weeks of work to find a UK bottle producer who could shift their production to supply the bottles we needed. Looking on eBay, Amazon and Alibaba there were no end of overseas suppliers all hawking their bottles to UK producers but it took effort from day one to ensure our bottles were 100% UK made. The plastics manufacturer we eventually partnered with is based in the Midland's and produces 20ml, 100ml, 250ml, 1 litre and 5 litre hand sanitiser bottles for us.
That was only our first challenge!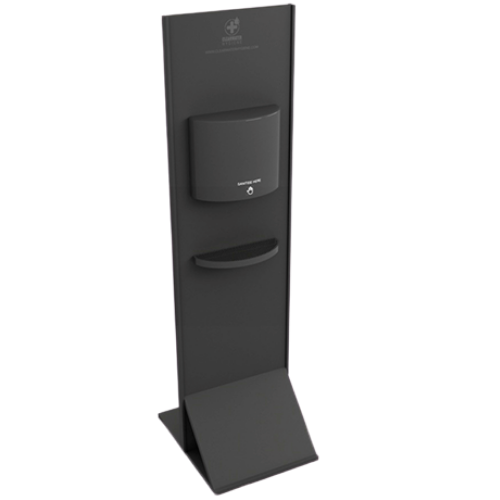 When it came to finding dispensers and stands for our 80% Alcohol Hand Sanitiser it was hard to move beyond the usual suspects (AliExpress, eBay etc.) and find UK produced solutions. We eventually partnered with an innovative business in Leeds to produce our Smart Stand for us that features a Premium integrated dispenser for use in foyers and high traffic workplace locations.
It was a real joy when all the searching, CAD designs and production conversations led to having a working, UK built product standing in our own office. We quickly scaled up manufacturing so this UK made dispenser is available to our business customers to buy in volume.
The list goes on, our bottling plant is in Preston; we have a design company in Edinburgh producing Point-of-Sale stands; all our labels are UK printed; we use UK logistics companies whenever possible for delivery and fulfillment; and not to forget our Scottish gin distillery.
#MadeInBritain is more than a hashtag, it is a way forward for the UK to recover from the recession we are now all in and be more resilient for future crises and peak demands, to keep British citizens safe and secure.
Occasionally there are products our customers need that we can't yet source in the UK. We are moving to clearly mark these on our website. In turn, we are actively encouraging our UK supply chain to build alternative products right here in Britain so we can offer them instead when they become available.
Already our #MadeInBritain policy is supporting over 100 UK employees in Edinburgh and beyond across our partner network. Every £1 spent in the UK is a £1 that goes directly into our economy, our people, our tax revenues and our future. It is also a £1 that builds a stronger Britain for the future.
UK produce can be slightly more expensive than the eBay alternatives. That said, time and time again we hear from customers that, when given the choice, they want to support the resurgence of UK manufacturing and the PPE capability of the home nations to protect our front-line workers.
We are humbled by this feedback and the response to our efforts so far to supply British products that provide protection to UK front-line workers, businesses and citizens.