Cheap, low quality products being recalled
This week the news has been filled with more stories of poor quality products being recalled from schools in Ireland.
The main culprit identified so far is the use of Methanol in the products instead of Ethanol.
Over 50 products have now been taken off the market showing that there is still a widescale problem with poor quality hand sanitiser being sold.
This is even more concerning when you consider these products have been used by children and have caused skin problems, eye and respiratory irritation and headaches. You can read more on the BBC website.
It's natural for ClearWater Hygiene to be calling out issues with dangerous products but it is still an issue that many businesses have yet to fully acknowledge.
If these products have made it into schools then the question has to be asked, have they made it into your workplace?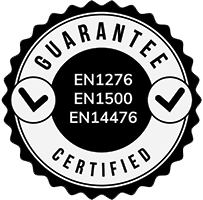 Highly discounted hand sanitiser that does not carry all the required Certification required to be safe and effective should be avoided. There is zero point dealing with the Covid-19 crises by creating an additional Health & Safety issue for your business.
We have written up some concise guidelines for choosing the right quality of hand sanitiser to keep your team and customers safe. The focus of the guide is the accommodation sector although the information is relevant to all business sectors. You can read more here.
As you can imagine, all ClearWater Hygiene Hand Sanitiser is made from Ethanol and is Certified to EN1276, EN1500 and EN14476 standards.
This ensures the quality and protection that your business deserves as we head in to the winter months. EN14476 guarantees the product as virucidal and effective at killing coronaviruses.
The European Centre for Disease Prevention and Control (ECDC) notes that alcohol-based disinfectants have been shown to significantly reduce infectivity of enveloped coronaviruses such as SARS-CoV-2 in concentrations of 70%-80% and our alcohol rub sits at the highest end of the ECDC recommendations.
With ClearWater Hygiene you can be sure that a new future is in safe hands. Explore our range of high quality, 80% Hand Sanitiser here.