Promote Health and Safety and your business
We've been taken aback by the response to our new Smart Stand portfolio.
A lot of work went into sourcing these screen dispenser units and then we went further still to to ensure they were accessible to all businesses by pricing them from £99 per month including a continuous supply of our medical grade hand sanitiser.
The main benefit of screen technology is that you can ensure your Health & Safety information is attention grabbing. We all know it is easy for customers and patrons to drop their guard and we also now know that, when safety standards fall, lockdowns follow.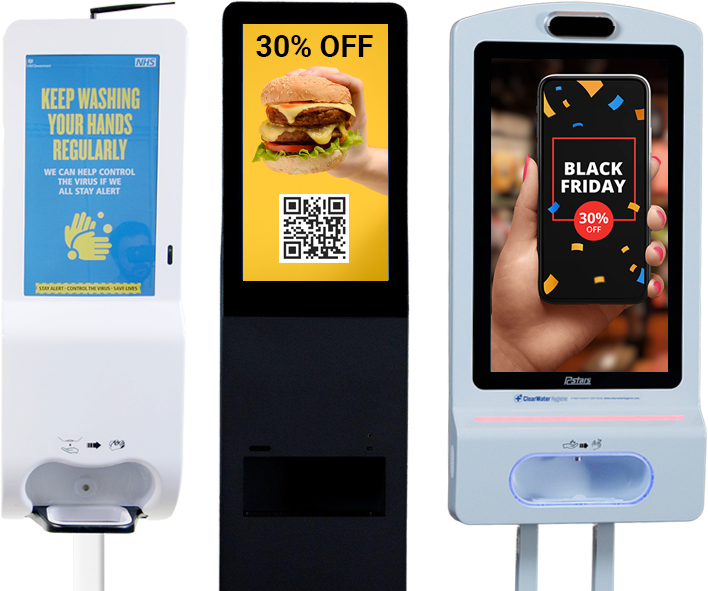 We all want to play our part and ensure that we leave lockdowns behind us for good. Having Smart Stands at the points-of-entry to your business shows you are serious about limiting outbreaks once and for all and that you know the highest standard is the standard your customers expect.
Many of us have been disappointed by the PPE that some essential businesses have provided (or failed to provide) during the lockdowns. A minimal investment in screen technology shows you are investing in your customers, community and business to offer the best when it comes to Covid protection.
The added benefit is that you can also promote your own 'back to business' offers along side the reassuring safety advice.
The screen quality of the units is very high and this has become a major benefit to customers purchasing the dispensers by enabling:
Clear distancing, hand hygiene and mask policy info
NHS updates and venue specific Track & Trace QR codes
High visibility branding and messaging showing you are open for business
Offers and promos to win back customers for your business
Your own QR code promotions to entice signups and loyalty
24/7 promotion of your products & services in your shop / store / office window
We've all seen the increase in screens in window space. Estate agents have shown how well screens can be used to showcase new homes and rentals even when they are closed.
This technology has now become available to all of us, an unexpected bonus in amongst the otherwise dreadful experience that has been the Covid pandemic.
ClearWater Hygiene entirely manage the units on your behalf. We monitor sanitiser levels to ensure you never run out of stock. We upload all images and videos. We maintain the units and keep them working so you don't have to deal with any issues around your workplace protection.
It is without question that trading is still going to be hard for the foreseeable future. Demonstrate your strength and quality before custoers even enter your premises. Reassure and succeed when it comes to standing out and being better than the rest.
All for £99 per month.
Check out our restaurant sector page to see some great example of what the screens can do.
You can call now on 03338 008 232 or see our special offer that includes 3 x Emergency Rapid Antigen Tests and a box of personal 20ml dispensers here.