Why your business needs a hand sanitiser dispenser
By now, you will already know that it is a requirement to ensure the safety of yourself, your employees and your customers who visit your commercial premises. Simple activities such as touching a door handle to switching on a light can lead to the virus being transmitted.
Having effective hand sanitising dispensers in your workplace not only means that you take hygiene seriously, but that you're also committed to protecting the health of the people around you. You are promoting good hygiene and reducing virus transmission across your business.
Why your business needs an effective hand sanitiser dispenser
Increase confidence in your workplace, protect your team and visitors while reducing the potential sick days – do we need to say more? Hand sanitiser dispensers have a range of benefits that can help to transform any business' hygiene standards. Here are our three main benefits of an effective sanitiser dispenser:
1) They are cost effective
Whether it's a smart stand or a motion sensor dispenser stand, you can be confident they will allocate the right amount of solution without compromising hygiene, which reduces the chances of your visitors using more than they probably need. Also, it means you can also estimate how much hand sanitiser solution is required for your business. Meaning you can bulk buy hand sanitiser solution if you know your business will use it, or its possible you could reduce your regular order to smaller amounts as there would be less waste!
2) They are a more reliable solution
With a hand sanitiser dispenser, it is less likely to go walkabouts and end up in someone's drawer! It is in a fixed position. It is placed in an area where it is needed most (without compromising the room's aesthetics), where the volume of traffic flowing through that area is most significant. In a place where the touchpoints increase, or the handwashing facilities are scarce.
3) They reduce the spread of infection
Last year, the BBC reported that there are millions of non-hand-washers hiding among us. Although hand sanitiser is by no means a replacement for washing hands, it will reduce the spread of infection.
People touch their faces frequently. They wipe and rub their eyes, scratch their noses, chew their nails, and if they have a moustache, they probably like to give that a twirl too! A recent study on a train showed that people touch their faces 23 times per hour daily. People feel their faces more when their anxious, embarrassed or stressed – which can be familiar emotions in the workplace. A quality hand sanitiser dispenser available around your commercial property will encourage people to sanitise and to get rid of any bacteria and viruses that can be transmitted between employees and your visitors.
Managed hand sanitiser solutions for businesses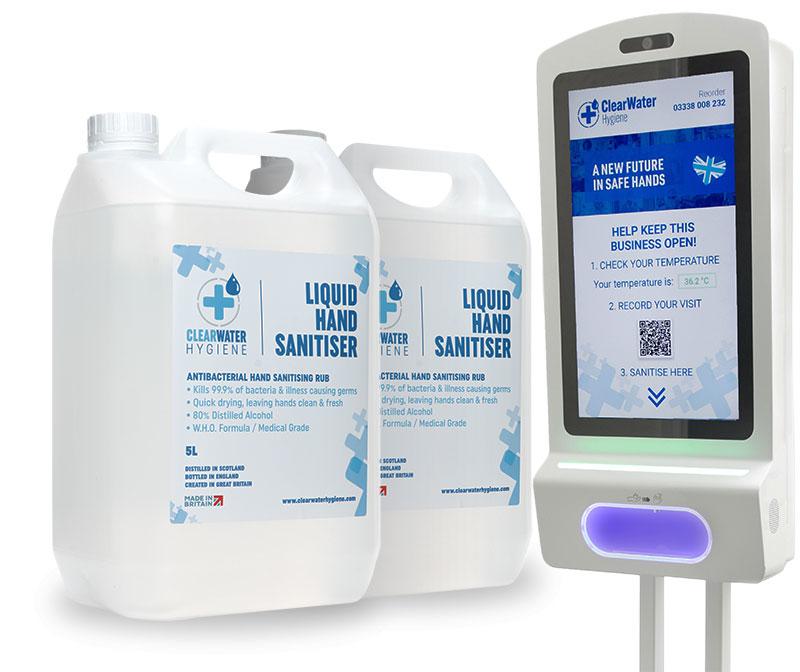 ClearWater UK offers a range of high quality and effective hand sanitiser dispenser solutions, which have been designed and developed for commercial settings like yours. We can help you reduce the risk of sickness and contamination within your business, help you keep everyone who walks through your door safe, and give you the tools you need to promote a happy and healthy environment where productivity is maximised.
Our sanitiser dispenser machines are built to be robust in your busiest spaces, whilst designed to be sleek and modern, with an aesthetically pleasing finish. You can visit our online shop to explore our latest hand sanitiser dispensers and cameras.
If you're worried about being cut short, we also have a range of managed services available to your business. Our goal is to provide you peace of mind and assist you to avoid potential risk wherever possible.
Get in touch with ClearWater Hygiene
If you require any further information about our services or products, get in touch with a member of the ClearWater Hygiene team today.