Workforce Antigen Testing
ClearWater Hygiene has always put quality and safety first.
We have consistently sourced premium products and solutions that allow our customers to operate in the full knowledge that they have the best-in-class protection in place for their team, customers and visitors.
Now, in collaboration with the incredible UK healthcare sector, we are offering on-site Antigen testing by trained health professionals. The Antigen tests enable rapid testing to rapidly control any onsite outbreaks. They can be used as part of a routine screening programme or to respond to an infection event where an individual or NHS Track & Trace reports a positive Covid-19 case to your organisation.
ClearWater will organise trained Health Professionals to conduct the testing on your premises and provide the ultimate reassurance to your workforce. Alternatively, we can provide you with the testing kits and training for your own Occupational Health team to proactively or reactively run the tests.
Control of a potential or actual outbreak is the difference between maintaining operation capability in many key sectors including logistics, construction and infrastructure projects.
We have several construction firm actively using testing to keep critical projects greenlighted and progressing safely through the pandemic. Beyond this we are seeing demand from professional services and logistics firms who need the confidence that 15-minute testing provides for service delivery areas that must be maintained.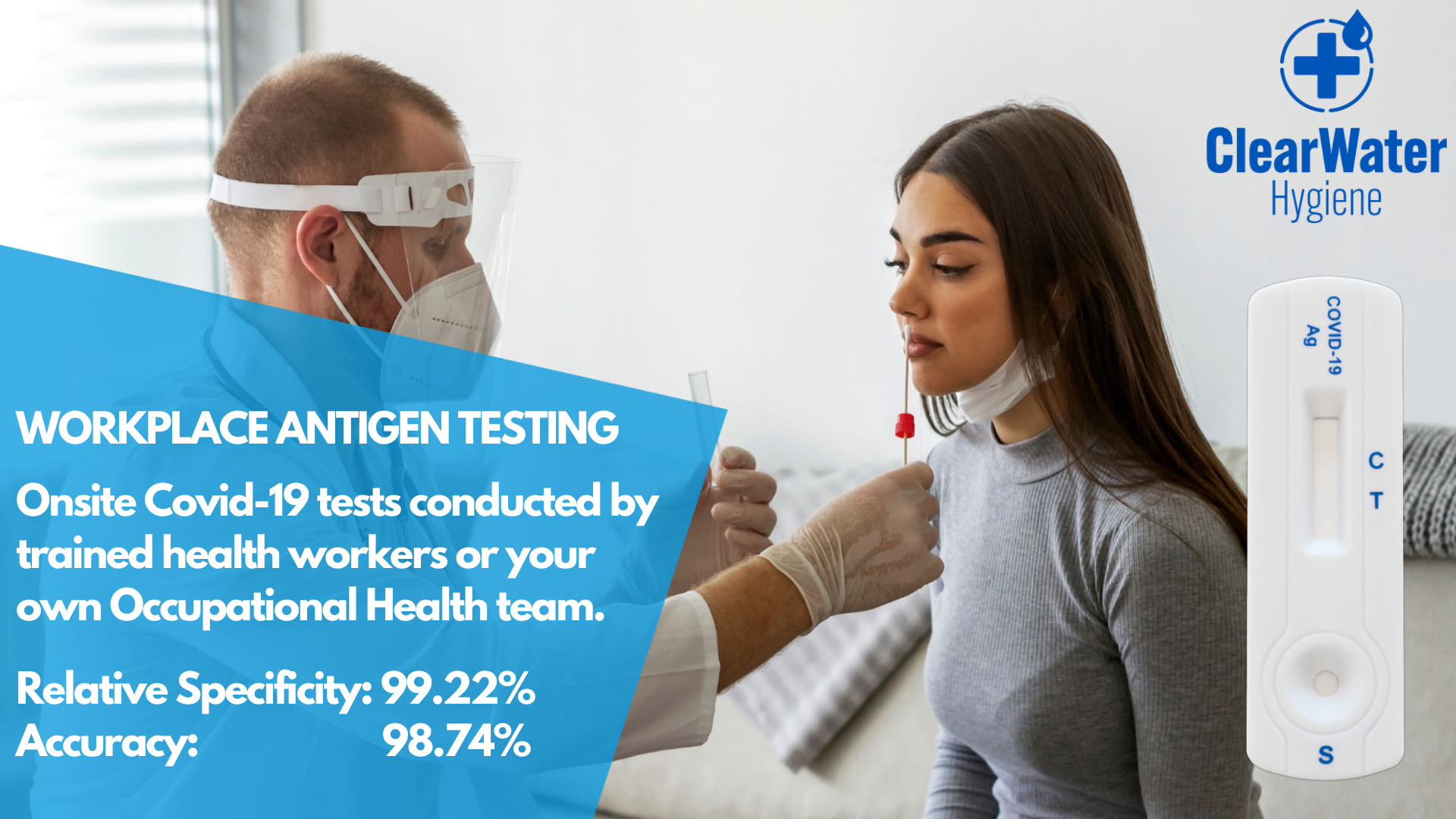 The Rapid COVID-19 Antigen Test is an in vitro immunochromatographic assay for the qualitative detection of nucleocapsid protein antigen from SARS-CoV-2 indirect nasopharyngeal(NP) swab from individuals who are suspected of COVID-19 by their healthcare provider.
Benefits
Rapid testing for SARS-CoV-2 antigen within 15 minutes
Facilitates patient treatment decisions quickly
Simple, time-saving procedure
High sensitivity and specificity
All necessary items are provided & no extra equipment is needed.
You can read more, including the product datasheet, on the antigen testing page or contact us on 03338 008 232 to discuss your onsite testing requirements.